Welcome to the WataMote Wiki!
This information source is dedicated to Watashi ga Motenai no wa dō Kangaetemo Omaera ga Warui! (No Matter How I Look at It, It's You Guys' Fault I'm Not Popular!). Shortened to WataMote, it is a Japanese manga series written and illustrated by Nico Tanigawa that recently was adapted into an anime series set to air in July 2013. Currently the wiki is rather under developed, so any help in improving the pages will be appreciated.
Characters
Media
Featured Image
Featured Video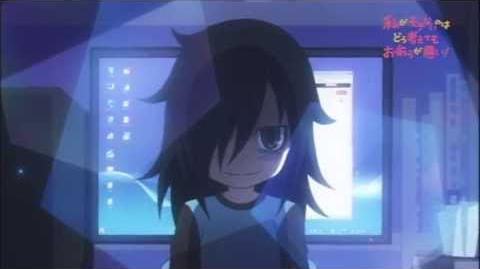 Pollbooth
After seeing the trailer, are you more or less likely to watch WataMote than you were before?
See more >
Featured Article
Yū Naruse has been
Tomoko
's best friend since middle school, and she often calls her Mokotchi. Yū was a dorky looking girl, but she changed her looks before entering high school and has a boyfriend. Although her appearance changed, she still enjoys hobbies like anime and she still considers Tomoko her best friend.
Read more >
Newsfeed

Refresh
See more >
Loading RSS data...
Follow Us