Volume 01 Omake

Information

Volume Number
Volume 1
Chapter Title
Unknown
Published
Unknown
Previous Chapter
Chapter 9
Next Chapter
Chapter 10
私がモテないのはどう考えてもお前らが悪い!
Watashi ga Motenai no wa dō Kangaetemo Omaera ga Warui!
No Matter How I Look at It, It's You Guys' Fault I'm Not Popular!
After coming home from school,
Tomoki
greets his mother and hears a home video playing on the television. The video shows his younger self being very affectionate with his sister.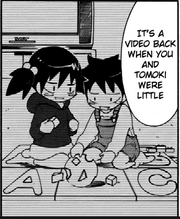 In the video he hugs
Tomoko
, asks to marry her when they are older, then kisses her. This video leaves Tomoki very disturbed and embarrassed.
Characters
Edit
In order of appearance:
As children, both Tomoki and Tomoko have blushing cheeks and no dark eye bags.
This is one of the sources for Episode 6.
Memorial Moments
Edit
Young Tomoko and young Tomoki hugging.
"When I grow up, I want to marry you onee-chan" – Tomoki

"That's impossible. Siblings can't get married you know." – Tomoko