The WataMote manga by Nico Tanigawa was brought a three month television anime adaptation two years after serialization, spanning from July 08, 2013 to September 23, 2013. The anime was produced by Japanese animation studio Silver Link and later the series had been liscensed by Sentai Filmwork on both DVD and Blu-Ray as this show was brought to North America, August 26, 2014. This series is directed by Shin Oonuma and written by Takao Yoshioka, with character design by Hideki Furukawa.
Episode list
Edit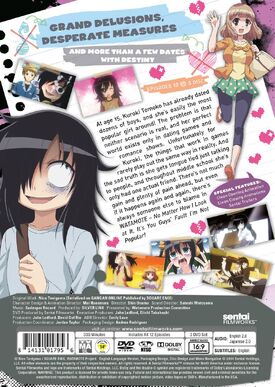 Season 01
Edit
Opening / Endings
Edit
Opening theme:
Edit
私がモテないのはどう考えてもお前らが悪い!

Watashi ga Motenai no wa dō Kangaetemo Omaera ga Warui!
By: Konomi Suzuki and Kiba of Akiba
Ending theme 1:
Edit
Dō Kangaetemo Watashi wa Warukunai
By: Izumi Kitta
Ending theme 2: (Episode 02)
Edit
夢想恋歌

Musō Renka

Dream Love Song
By: Velvet, Kodhy
Ending theme 3: (Episode 05)
Edit
夜のとばりよ さようなら

Yoru no Tobari yo Sayōnara

Farewell, Veil of Darkness
By: Velvet, Kodhy
Ending theme 4: (Episode 06)
Edit
By: Utsu-P & Toka Minatsuki
Ending theme 5: (Episode 11)
Edit
そこらの着ぐるみの風船と私

Sokora no Chaku-Gurumi no Fūsen to Watashi

Me and the Balloon I Got from the Costumed Person
By: Velvet, Kodhy and µ.
The opening theme had charted 43rd on the Japan Hot 100.

Ending theme 1 had charted 79th on the Japan Hot 100.
Ending theme 4 featured vocals by Hatsune Miku. (Covering the original 1990 hit song by Jitterin' Jin)
The OVA episode was released simultaneously to the release of the seventh manga volume on October 22, 2014.
This series was simulcasted by Crunchyroll.
Pages in category "Episodes"
The following 14 pages are in this category, out of 14 total.
Ad blocker interference detected!
Wikia is a free-to-use site that makes money from advertising. We have a modified experience for viewers using ad blockers

Wikia is not accessible if you've made further modifications. Remove the custom ad blocker rule(s) and the page will load as expected.